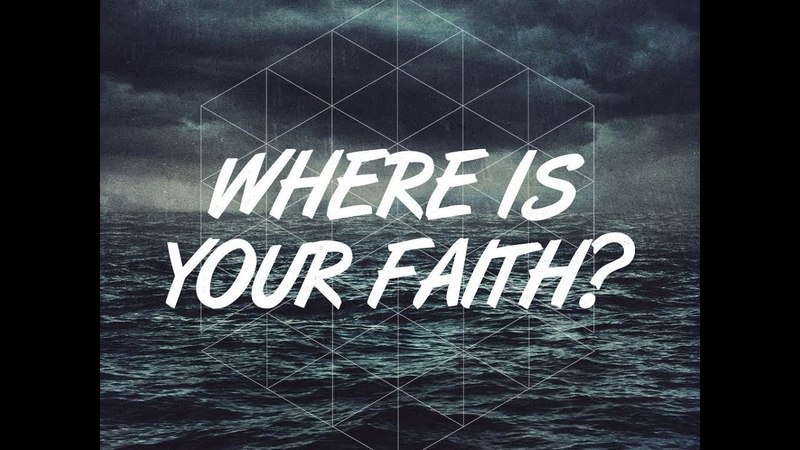 Intro
Sooner or later we will all go through storms in life, periods in our life that we would rather not experience. In fact sometimes it feels like we might not make it! It is at times such as these that Jesus asks us "where is your faith?" It is a question that probes the condition of our soul. Yet it is also a question that points us in His direction. Have you forgotten your Lord? The sermon and the songs will speak to these periods in our life. You are not alone. This time around I will begin with the sermon and invite you to listen and be ministered to by songs that encourage us to live out our faith and look to God.
Reading -

Psalm 89: 1-18
1 I will sing of the Lord's great love forever;
with my mouth I will make your faithfulness known
through all generations.
2 I will declare that your love stands firm forever,
that you have established your faithfulness in heaven itself.
3 You said, "I have made a covenant with my chosen one,
I have sworn to David my servant,
4 'I will establish your line forever
and make your throne firm through all generations.'"
5 The heavens praise your wonders, Lord,
your faithfulness too, in the assembly of the holy ones.
6 For who in the skies above can compare with the Lord?
Who is like the Lord among the heavenly beings?
7 In the council of the holy ones God is greatly feared;
he is more awesome than all who surround him.
8 Who is like you, Lord God Almighty?
You, Lord, are mighty, and your faithfulness surrounds you.
9 You rule over the surging sea;
when its waves mount up, you still them.
10 You crushed Rahab like one of the slain;
with your strong arm you scattered your enemies.
11 The heavens are yours, and yours also the earth;
you founded the world and all that is in it.
12 You created the north and the south;
Tabor and Hermon sing for joy at your name.
13 Your arm is endowed with power;
your hand is strong, your right hand exalted.
14 Righteousness and justice are the foundation of your throne;
love and faithfulness go before you.
15 Blessed are those who have learned to acclaim you,
who walk in the light of your presence, Lord.
16 They rejoice in your name all day long;
they celebrate your righteousness.
17 For you are their glory and strength,
and by your favor you exalt our horn.
18 Indeed, our shield belongs to the Lord,
our king to the Holy One of Israel.
Sermon - By Pr. Vic Dias - "Where Is Your Faith?"
Audio
Video
Worship Songs
The songs for today are: Oceans, Peace Be Still, It Is Well With My Soul, No Longer Slaves and In the eye of the Storm. These songs have been grouped in the playlist accessible through the video below. You are invited to sing and worship along following the on-screen lyrics. (Note: you might have to skip some advertisements.)
Prayer
Let us pray for this generation of believers that they will be a people of faith and courage. Pray especially for front line Christians who face danger and persecution in their everyday ministry. Let us pray that His kingdom will come: that it will grow and spread throughout this country and this world. Let us pray for our missionaries and those that will heed the gospel call. Let us pray for anyone experiencing a storm in their life right now that they may know Jesus cares for them.
Giving
In case you would like to support MCF, you can tithe and give offerings through paypal using your credit card or by linking your bank account to make automatic monthly contributions. More info at mvcf.ca/give. Please email our treasurer Josh Wong at treasurer@mvcf.ca if you need help setting this up or if you have further questions.

Alternatively, cheques for donations can be sent in by mail or dropped off at the Annex mail slot beside the gravel parking lot. Address: Mountainview Christian Fellowship, 791 27th Avenue East, Vancouver, BC V5V 2K8.
Benediction
"The Lord is my light and my salvation whom shall I fear? The Lord is the stronghold of my life; of whom shall I be afraid?... Wait for the Lord; be strong, and let your heart take courage; wait for the Lord." Psalm 27:1, 14